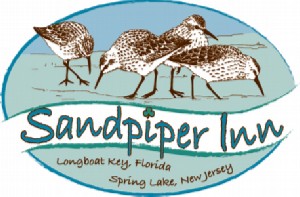 If you haven't already discovered it, there's no place like Spring Lake, with a 2 mile non commercial boardwalk along a beautiful beach on the Jersey Shore. A beautiful town with quaint shops, lovely neighborhoods on the lake, only a short walk away, or take one of our bicycles.

The Sandpiper Inn is a casual Bed and Breakfast with 15 bright, airy, and spacious guest rooms, several with Ocean views. Each room has its own private bath, air conditioning and a small refrigerator. Our common space includes an ocean view wrap-around porch, large living room and heated indoor pool.
There are many nice restaurants within ten minutes of the Inn, several in walking distance. We provide a complementary cook to order breakfast each morning from 8 AM to 10 AM.
The Sandpiper Inn is CLOSED for the Season
The Sandpiper Inn will OPEN for the 2014 Season on Friday May 16, 2014.
You may now make reservations for the 2014 season Online or by calling the Sandpiper Inn at 732 449 6060.
The Sandpiper has the most convenient location of any property in Spring Lake. We are only 100 steps to the beach, boardwalk, pavillion rest rooms, large outdoor salt water pool and snack bar.
The Sandpiper Inn does not take children.